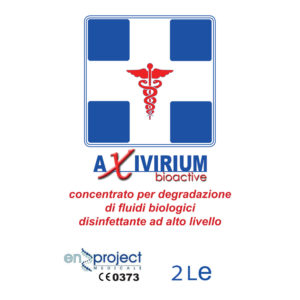 100% TOTAL EFFECTIVENESS ON VIRUSES AND BACTERIA
01
Description
Axivirium BIOACTIVE®, a Class IIa CE 0373 medical disinfectant device and a highly concentrated formulation, is an internationally patented solution that contains "Carboviral αα", a specific biotechnology for the denaturation of biological fluid parts containing human metabolism with high degrees of infectivity, in order to comply with the current safety legislation on biological risk. Specifically made for an internal use of the ABT Line, controlled fluid dynamics biomedicals.
Hydrosoluble Disinfectant at 100 %, does not deviate from its neutral pH of 7.2, suitable for dilution with hard water.
Particular unique characteristics:
Elimination of the bacterial burden in 5 minutes by a notable inoculum consisting of a mixture of strains in billions of units (log 108), a complete elimination (100%) of the contamination referred to in CFU = 0. The disinfectant solution is used inside the circuit at a concentration of 0.25% /L.
The combination of the stable pH, the Carboviral αα synthesis and the accelerated complex Protease enzyme, favors the carbonification process of fluids leading to a gradual loss of oxygen, nitrogen and hydrogen.
A broad-spectrum action on bacteria, yeasts, fungi and viruses. Bacteria, spores and fungi within 5 minutes of action; retroviral inhibition within 1 minute.
Instant action: on immediate contact with organic fluid substances.
The ion chromatography determined a presence of over 10 000 ppm total chlorides  thanks to the disinfectant effectiveness.
The solution is is over 94% biodegradable and has to be disposed of as a product diluted by the ABT device, in compliance with current laws.
Various tests and related follow-ups according to the UNI EN ISO 6222 method certify the effectiveness of Axivirium in degrading biological waste in just a few minutes:
| # | Counting micro-organisms at 36°C | Unit of measure | Reading |
| --- | --- | --- | --- |
| 1 | 68000000 | CFU/ml | Initial sample |
| 2 | 0 | CFU/ml | After 5 minutes of contact with Axivirium at 0.25% |
| 3 | 0 | CFU/ml | After 5 days of withdrawal |
The results obtained with the AXIVIRIUM BIOACTIVE disinfection system, in combination with the ABT biomedical device, were very satisfactory, highlighting the effectiveness of the treatment that, in a 15 minutes decontamination time, reconditions the tank  without leaving any trace of contamination.
Axivirium is a disinfectant – concentrated detergent. Its activity is ensured by the synergy of the mixture between the different components and is verified according to the CEN/TC 216 standards for bactericidal, virucidal and fungicidal activities. INDICATIONS: Degradation of contaminated and non-biological fluids in operating wards, critical areas of intensive recovery, resuscitation, cardiac surgery CICU. Suitable for hospital use. Terminal disinfection. METHOD OF USE: The product is intended for an exclusive integrated use with the ABT Line biomedical devices. Percentage of use: 0.25% / kg of biological fluid (reflux). INSTRUCTIONS FOR USE: A traceable recharge of 2 liters to be poured entirely in the ABT device when required by the management system. WARNINGS: Keep out of the reach of children. Store at room temperature away from heat sources. The expiry date refers to the product in intact packaging and correctly stored. Once opened, the product must be used within one month.