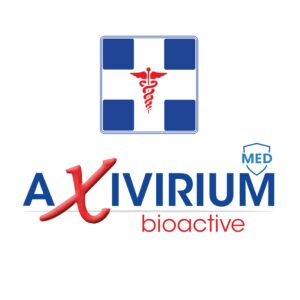 100% TOTAL EFFECTIVENESS ON VIRUSES AND BACTERIA
01
Description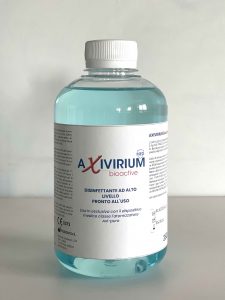 Axivirium BIOACTIVE® MED, the class IIa CE 0373 disinfectant medical device , is a ready-to-use formulate made for an exclusive use with Axi-pure, the class I medical device atomizer.
Axivirium bioactive Med®, thanks to the characteristics of its specific retroviral functions capable of inhibiting viral replication, guarantees effectiveness even on Sars-Cov-2 viruses..
Contains Carboviral αα, a specific proprietary technology of Enproject Medicali srl with remarkable retroviral capabilities that is already successfully used for high-level disinfection in the healthcare sector.
Hydrosoluble Disinfectant at 100 %, does not deviate from its neutral pH of 7.2, suitable for dilution with hard water. Specifically formulated for use with the Axi-Pure sprayer.
Broad-spectrum action.
No residues. Does not require drying or rinsing. Instant action.
The intact and correctly stored concentrated product is valid for 3 years, stability is confirmed by validation tests in chimical physics through quantitative determinations of the active principles.
The procedure involves the application of Axivirium Bioactive® Med using Enproject medicali's AXI-PURE sprayer.
The product must be dispensed exclusively on the surfaces which are meant to be treated, taking care of covering the entire surface evenly.
The product should not be dispensed into air or towards faces, heat sources, open flames, etc.
Once the product has been used, the treated surface will dry in a few seconds, without need for any further actions.
Surface treatment using Axivirium Bioactive® Med does not replace cleaning with a mechanical action. Cleaning actions must be done on particularly dirty or encrusted surfaces as Axivirium Bioactive® Med performs its disinfectant action in a global context of sanitization.
WARNINGS: Do not direct the jet towards heat sources, open flames or a person's face.  Keep out of the reach of children. Store at room temperature away from heat sources. The expiry date refers to the product in intact packaging and correctly stored.
FORMAT: 380 ml sealed bottle
PACKAGE: 6pcs
Technical Sheet
Documentation is available upon request